Covid 19 updates
Police Vehicle Recovery Scheme Management Fees
Member Communication
Police Vehicle Recovery Scheme Management Fees
19th May 2020
As you will be aware, AVRO has been working hard during the COVID-19 pandemic to ensure as much as possible is done to aid and support not only AVRO members, but the whole roadside recovery industry.
Police Vehicle Recovery Schemes and Statutory Removal, Storage and Disposal fees are a matter that required a great deal of attention including a very much overdue review by the UK Government prior to the COVID-19 pandemic. AVRO has been instrumental in leading on this and championing this cause through the Statutory Fee Stakeholder Review Group it formed in November 2018 and great progress was being made with direct and high level dialog ongoing with the UK Home Office, National Police Chief Council and many other industry stakeholders. This included a commitment from the UK Home Office for a review and a timetable for implementation. Unfortunately, the COVID-19 pandemic has prevented the UK Home Office from furthering this review and implementation, however AVRO is maintaining the pressure and insisting that the necessary work to further this continues, and we see this through to the end. We are confident we can achieve this, and we will be continuing to lead and champion the cause for our members and the wider industry.
Through AVRO's professional approach and representation, we have formed excellent working relationships with a number of key industry stakeholders such as individual Police forces and critically the National Police Chief Council (NPCC) who are very sympathetic and appreciative of the services our members provide to Police forces throughout the United Kingdom.
On the 9th April 2020 AVRO wrote to all UK wide Police Forces, this was addressed to the Chief Constables, Police & Crime Commissions and Liaison Officers. In addition, we also wrote to our partners at NPCC, who manage the vehicle recovery group within NPCC.
We have been very pleased with the response received from NPCC and for your benefit we have shared below both the questions asked of all who were written to and the response received from NPCC.
Question: A suspension or reduction in management fees paid by roadside recovery operators for work received under Police schemes
Response: We are very sympathetic to this request, there are two parts to this answer:
Forces contracting with via Management Agents (AA, FMG, GRG). We will ask forces to have discussions with their Managing Agents to forgo or at least substantially reduce management fees with a start date of the 1st April 2020 to be reviewed at the end of June.
Forces contracting directly with recovery operators. We will ask that forces forgo or at least substantially reduce management fees with a start date of the 1st April 2020 to be reviewed at the end of June.
Any support as above is conditional upon this being done on an open book basis in line with Cabinet Office Guidance.
Question: The waiver of any management fee in the case of any vehicle which is neither collected nor paid for by the vehicle owner or relevant party
Response: If payment is not collected from the vehicle owners some payment is still made from the proceeds of disposal, there are only a small number of cases when no payment is made because the vehicles have no scrap value. I feel that the level of management fees can be adequately dealt with as in point 1 above.
Question: An enhanced payment in respect of any PACE of "Police to Pay" incidents which are predominantly low paying incidents but require expert removal and specialist storage facilities such as SOCO bays.
Response: At this stage I am not recommending forces consider this.
Question: Consideration of financial support in the form of a monthly retained fee for services contractually provided based on average monthly turnover.
Response: It is our opinion that the reduction or removal of management charges in conjunction with the other Government support available should provide sufficient support to ensure fair treatment and continuity of service at this time. If any contractor feels that the terms of their contract or local circumstances are such that further support is justified, they should take this up with the police force concerned.
Question: Support in reducing where operationally possible storage of vehicles, which would usually be contractually required to store FOC. This can be supported by ensuring vehicles in storage are processed in a timely manner.
Response: At the moment there does not appear to be a significant increase in the number of vehicles in storage, however court delays due to postponed trials may cause a problem in future in the small number of cases where vehicles have to be held up to trial dates. Forces should not be holding vehicles for any longer than necessary and the support you are requesting should be business as usual. If individual contractors are not happy that this is happening or down the line, there is a large increase in numbers they should make representations to the force concerned.
It is important that we also share with you the following from NPCC response:
First of all, I like all Chief Constables, am extremely grateful for the work you and your operators undertake in respect of police schemes, especially during this difficult period. In response to the points you raise I will be encouraging Chief Constables to provide support where they can and although this is not binding as each force is independent, it makes sense to try to achieve a consistent response.
There are a number of points we need to go back to NPCC on, in particular in relation to the value of scrap which is key to income when recovered vehicles are uncollected as we are acutely aware that the price of scrap has dropped drastically.
However we are encouraged that NPCC is supporting our main request that management fees are reduced and we are encouraged to see that a number of Police forces are already following the guidance given by NPCC and starting to communicate with their recovery operators and management agents to implement this. We are aware today that both Hampshire Constabulary and Leicestershire Constabulary have both acted. In addition to this we are aware that consideration has been given to the current level of scrap price and one Police force has introduced a supplement towards the reduction, which again is very encouraging and is appreciated in supporting our members and the wider industry.
So our advice to our members today is, if you have not already received communication from your Police force in relation to the above, then we strongly recommend that you contact your Police force and if applicable scheme managers and bring this information to their attention and request the financial support you need as a roadside recovery operator to be able to continue to provide the dedicated and professional service which you do to respected Police forces UK wide through the trying and testing economic situation the COVID-19 pandemic has presented us all with.
Results such as this are true testament to the dedication and professional representation of AVRO, working hard for its members and the wider industry. We very much hope this result brings benefit and support to your business in this trying time.
If you would like any further information, assistance or support, please do not hesitate to contact the AVRO office on 01788 572850 or e-mail sara@avrouk.com
AVRO's "Next Phase" Survey
AVRO's 'next phase' survey is starting to take shape. here's a snippet from the results coming in.
We asked you " Looking forward, what do you forecast for your busines prospects.

Please take a moment to have your say by clicking the below link. It is important to complete the survey as your contribution can make a difference on future policy decisions.
The full results will be published in the coming weeks.
Click the link below to begin the survey
https://docs.google.com/forms/d/e/1FAIpQLSfxql-rZARd2KlRibBN7c01bTpA-w7OWMoX05TqwiXiTB51pQ/viewform
AVRO's First Survey initial results
AVRO recovery industry survey results are coming in. Whilst the survey is still live and can be completed on this link (link) there shows some definitive patterns forming that clearly illustrate the all round devastation to our industry.
In graph 1, 39% of respondents (green bar) had between 81% and 100% reduction in their recovery turnover.
If you take into account the Green, Red and Amber bars, the results show that 95% of respondents had experienced at least a 41% reduction in their recovery turnover.
In Graph 2, 28% of respondents (Green bar) had furloughed between 61% and 80% of their staff. If you take into account the Green, Amber and Red bars, this illustrates that 80% of respondents had furloughed between 21% and 80% of their staff.
Graph 1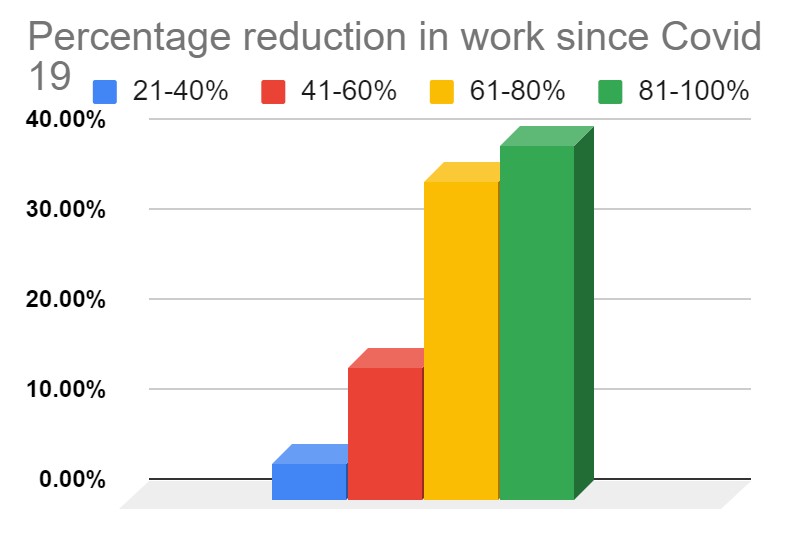 39% of respondents had between 81% and 100% reduction in turnover
95% of respondents had over 41% reduction in turnover
Graph 2
28% of respondents had furloughed between 61% and 80% of their staff
80% of respondents had furloughed between 21% and 80% of their staff
The results have aided our lobbying and communication with Government and stakeholders. The survey illustrations are an excellent vehicle to get your collective views across in a direct and simple fashion that can be easily understood in the Covid -19 environment that has been described by some as information overload.
At the end of the survey, respondents were given the opportunity to let us know their thoughts. Using your collective thoughts have been arguing that furlough, whilst financially helpful, it is not a good fit for our industry, that is largely a reactive response service, so requires staff remaining on standby to support the work providers instead of being prevented to be on call. These views have bolstered our requests to seek more support from the work providers to ensure the end users are receiving the best service possible.
We will be seeking more of your views in our next survey which will focus on the next phase of Covid 19 and how the industry will cope with remobilising their businesses.
With that said, if you have anything in particular that you feel maybe helpful to be included in the survey then please send in your request to sara@avrouk.com
AVRO President's Communication COVID-19 Coronavirus
9th April 2020

I am sure, like me, you have probably received plenty of communications from various parties, all sent in good faith and stating, "it is business as usual".I do not think anything can be further from the truth. In the best of times the roadside recovery industry struggles to survive for a whole range of reasons, such as low rates of pay, cost of training and compliance costs not to mention, vehicles, equipment, insurance and overheads. Even so, we operate as an emergency service, indeed many have said we are the 4th emergency service, often supporting Ambulance, Fire and Police services; however, we do not receive the recognition that the other emergency services receive.COVID-19 has exacerbated our woes, but the AVRO National Council has jumped into action; we have been listening and communicating with our regional members to understand the issues we are all experiencing first-hand, from these first-hand conversations we have identified a clear action plan to best support our members and AVRO continues to lead the conversation.Furlough (COVID-19 Job Retention Scheme)Credit must be given for the support Government has offered to businesses, but what they willbe judged on is the delivery. Employee furlough works for many business and industry models, but not ours. We need employees on standby, not paid to be at home. We need to be supported to keep our business open, not closed. We are in talks with Governmenton this and are hitting the point home that bespoke support is needed.GuidanceWe have produced specific roadside recovery guidance, so our members know what to do with roadside recovery operations, such as carrying passengers. The guidance we have produced has drawn from the advice and guidance given through our communications with the public health bodies of England, Wales, Scotland, Northern Ireland and ROI. What was clear that before we asked the questions, no one in these bodies had given any thoughtto the roadside recovery industry but working with these bodies we were able to achieve clear and concise guidance for our members.

See the whole communication here
Downloads